One of the most common issues that an Outlook for Mac users faces upon shifting to a Windows PC is to convert OLM files to PST format. The user is using OLM file format to store data as opposed to PST file format which used in MS Outlook on a Windows computer. As OLM file format is different than PST file format, MS Outlook used in windows won't be able to read it, hence the need for conversion of OLM file into PST file becomes necessary.
In this article, we are going to learn how to convert Mac Outlook mailbox to PST format in two different ways.
Different Ways to Convert OLM files to PST Format
There are various ways to perform the OLM file conversion. Here we are going to learn two of the most commonly used methods to convert an OLM file into a PST file.
Method 1: Manual Conversion
Manual conversion is a bit tricky and should not be used until and unless you completely understand the procedure. As this procedure, if done improperly, might even corrupt your OLM file.
This procedure can be done in the following steps:
Setting up an IMAP account mail,
Set up Outlook for Mac with your IMAP mail account and
Transferring your emails from your Outlook mail account to IMAP mail account.
Synchronize the IMAP account with Windows MS Outlook and copy the emails.
Setting up an IMAP Account
To set up an IMAP Gmail account, follow the procedure:
Create a new Gmail account.
Go to the Settings, i.e. click on the "Gears" icon and select "Settings".
Click on Forwarding and POP/IMAP.
Enable IMAP Access.




Google may block by default third-party mail clients like e.g. Outlook. To Enable Third-Party Mail Clients, you may enable "Less secure apps" (third-party mail clients) from
My Account > Sign-in & security > Connected apps & sites > "Allow less secure apps.
Enter the following information in the IMAP account settings of your mail client:
Server: gmail.com
Encryption/Authentication: SSL
Port: 993
Username: Your Gmail email address
Password: Your account password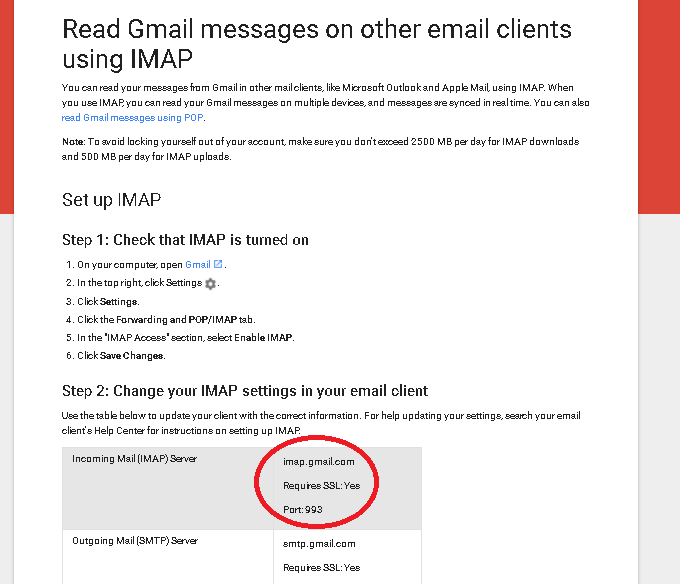 Set up Outlook for Mac With Your IMAP Mail Account
Follow the procedure mentioned below to Set up Outlook for Mac with your IMAP mail account you created.
Open Outlook for Mac.
If this is the first account you're adding, follow the prompts. Otherwise, go to step 3.
Select Tools> Accounts.
Click the plus (+) sign > New Account.
Enter the email address of the account.
Follow the prompts to complete the account setup.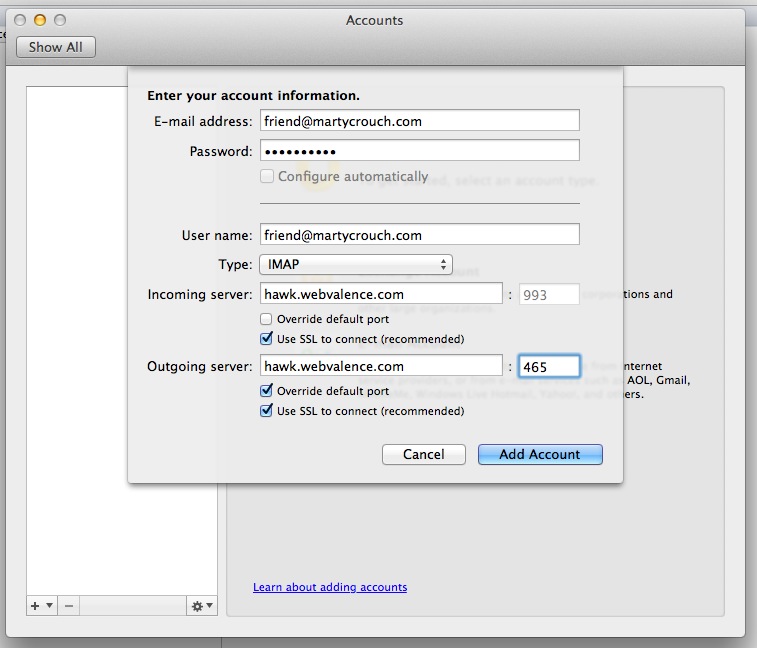 Transferring Emails From Outlook Mail Account to IMAP Mail Account
Now that you have set up you Outlook for Mac with the IMAP account, you now need to transfer your mails from your Outlook account to the IMAP account. Follow the steps mentioned below for the same:
Open Outlook for Mac.
Right-click any mailbox item that you want to move. Click Move > Copy to Folder.
Now type the name of your IMAP folder and click Copy.
After copying the selected mailbox data to IMAP mailbox, you need to click Send/Receive button to update your Outlook for Mac IMAP folder.

Synchronize IMAP Account With Windows MS Outlook
The final step of the procedure is to synchronize your Outlook client on Windows PC with the same IMAP account you created in Gmail.
Set up the same Gmail IMAP account you created on you Windows Outlook client.
Move the emails from the IMAP account to your Windows Outlook Inbox Folder by dragging and dropping.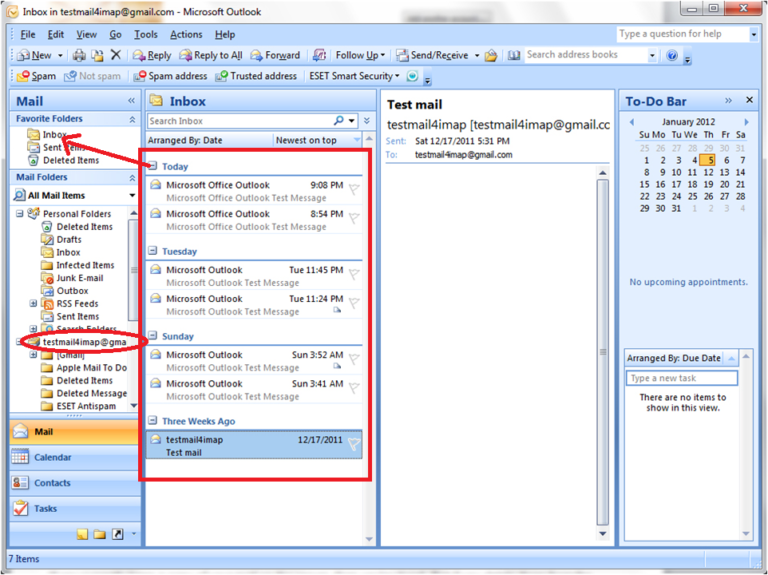 Method 2: Using a File Conversion Tool
Since the procedure of converting OLM files into PST file by the manual procedure is so complicated and requires sound technical knowledge. Going with the Professionals conversion tools to convert OLM files into PST files is the best option in such cases.
Follow to mentioned steps to convert your OLM files into PST files:
Launch OLM to PST Converter by MailConverterTools on your system. Click on Open.
Now click on Browse button to select an OLM file from your system directory and select the OLM file and click on the Open button, the selected OLM file will be shown.
Click on OK to start the scanning process. Once the scanning process is completed, click on OK.
Expand the file items one by one. Double-click any email to see its preview in the preview pane.
Now select all the folders on the left-hand side pane which you want to convert and save into a new file. Click on Save
Now, Click on Browse button and select any location to save the data of an OLM file into a new file, select the file format in which you want to save the recovered data (PST in this case) and select other saving options. Click on OK to start the saving process.
The software starts the saving of data into the selected file format at the specified location. It will take hardly a few seconds to be completed. Once the saving process is completed, click on OK.
Conclusion
Using OLM to PST converter allows us to convert OLM files to PST format and other email files like, EML, MBOX, and MSG easily. It allows you to save data within a selective range and also helps recover corrupt OLM files as well.