In this post, we will discuss the easy methods to Export Thunderbird Data (MBOX) into Outlook PST.
Thunderbird is an open-source application used to store all personal information of a user. It is one of the most widely used e-mail clients readily available in the market and the e-mail items are stored in the form of MBOX format. MBOX format is also supported by several email clients like AppleMail, Entourage, Eudora, Postbox, Netscape, PocoMail, Thunderbird, Spicebird, Opera, PowerMail, Claws Mail, Evolution, SeaMonkey, Sylpheed, Mulberry, GyazMail, Gnu, Sparrow, The Bat!, WebMail etc.
The below-shared infographic shows the Reasons for switching over Outlook to Thunderbird: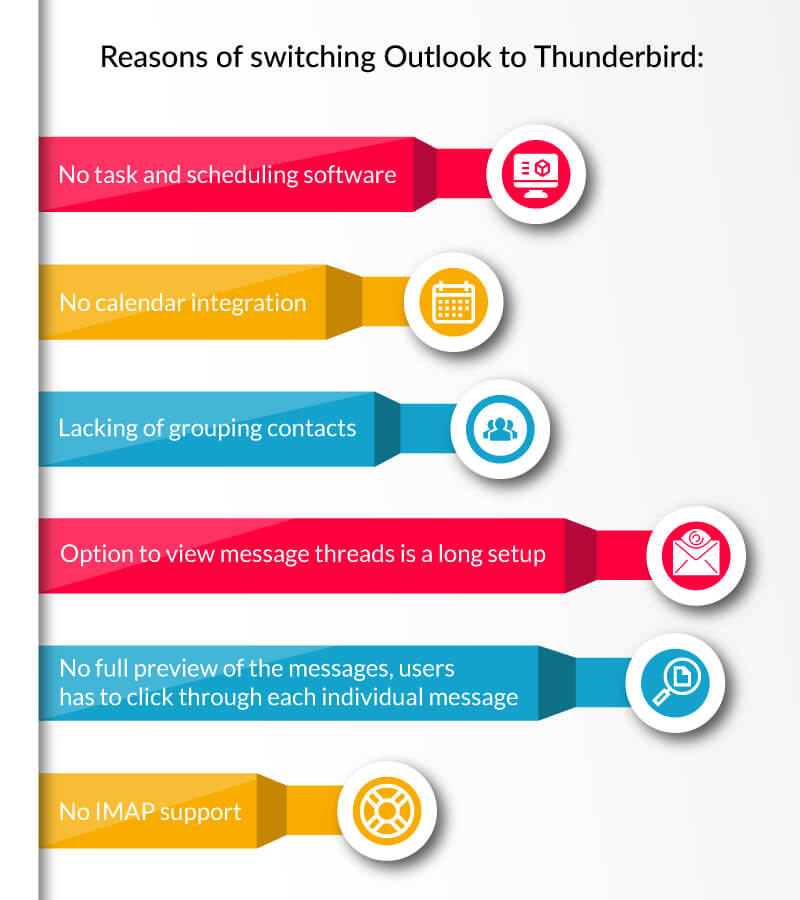 Although Thunderbird widely supports many platforms like Windows 7, Windows 8, 10, Vista, Windows XP but these reasons stated above enforce the people to switch from Thunderbird to Outlook.
There are two methods to convert MBOX file to PST file format.
Using manual Method
Using a third-party tool
Manual Method to Export Thunderbird Data (MBOX) into Outlook PST
If you are technical expertise than you can go through manual method for the data conversion.
The stepwise guidance is given below:
Step1: Run Thunderbird Email client.
Step2: Open the file folder that you want to export.
Step3: Select email
Step4: Right-click on the selected emails & click "Save As" option.
Step5: Save the selected messages and click 'Select Folder' to export messages.
Step6: Run MS Outlook.
Step7: Right-click the "Outlook" folder & click on "New Folder".
Step8: In the "Name" section, enter the desired name and click "OK" to create it.
Step9: Choose all emails exported from Thunderbird using Ctrl + A
Step10: Select and drag all emails to the middle pane of the MS Outlook and import all messages into the new folder.
Step11: All emails will be viewed after the successful import process.
This manual method will be useful in the situation when there are limited emails. For bulk data migration, this can be a bit bad.
Moreover, If you are not technical expertise than go through the third-party tool for smart conversion.
Third-Party Solution
MBOX to PST Converter easily export mailbox folder to PST, EML, MSG, RTF and HTML file format. Tool convert emails from Thunderbird, Entourage, Apple Mail, Opera Mail to Outlook PST.
Conclusion
In this article, I have discussed the best possible methods to Export Thunderbird Data (MBOX) into Outlook PST. You can follow the manual approach. But, if it does not prove helpful, then you can opt for Third-party tool.
Using MBOX to PST Converter to export Apple Mac Mail to Outlook with ease because it's easy to use. GUI lets the user to correctly transfer the status information of emails to Outlook by maintaining the data integrity.