Do you also want to Import MSG to Gmail?? Well, then you have landed in the right place. Here in this blog, we are going to discuss various methods to import the MSG file with attachments. These days emails are an important source of information. Every business person uses emails to communicate important information. Emails contain a lot of confidential data. Though one can use the archiving feature to save the emails for a long time. Also, there are various mail client software available, yet everybody wants a new technology.
Due to this, many users migrate from one email client to another on a day-to-day basis. MS Outlook is the most used email client that stores emails in MSG file format. But most users are now looking for ways to switch to a cloud emailing platform i.e. Gmail. As a result, most users these days are searching "how to import MSG files into Gmail". To do that follow the below-mentioned methods.
02 Reliable Methods to Import MSG to Gmail with Attachments
Using the below-mentioned methods one can easily import the MSG files.
Method 1: Export MSG to Gmail using Outlook
Method 1 will take place in two parts, in the first part we will configure Gmail in Outlook, and in the second part, we will import the MSG files to Gmail.
Part 1: Configure Gmail in Outlook
Firstly, go to your Gmail account and click on Setting > See all settings.
Now, hit the option Forwarding and POP/IMAP and click on the enable IMAP button.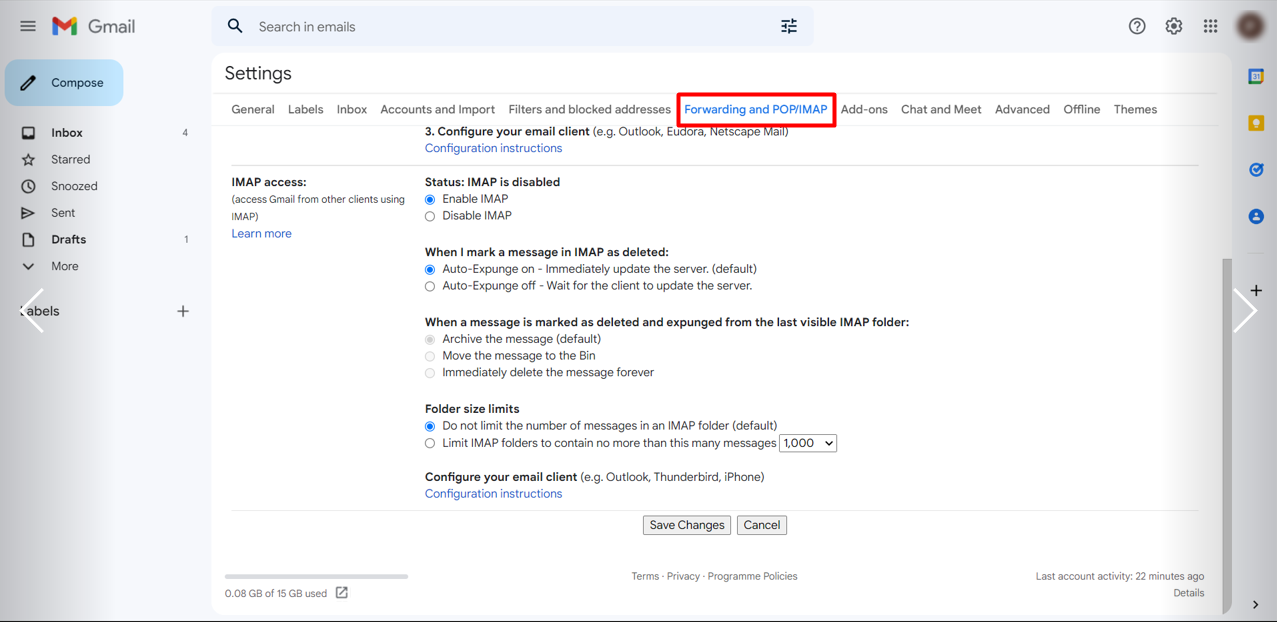 After that, click on Save Setting.
Now, open MS Outlook and go to File >> Account Setting.
Here, enter your Gmail email address and hit the Connect button.
Now enter your Gmail Password and again hit the connect button to import MSG to Gmail.
After that, a notification will display on your screen saying that you successfully added your Gmail account.
Part 2: Import MSG File to Gmail
Firstly, go to MS Outlook and create a new folder under the label of your Gmail account and assign a name to it.
Now, go to the location where MSG files are saved and copy all the saved messages.
Finally, paste them into the newly created folder.
Here you move MSG files to Gmail with the native method. However, there are a few limitations to this approach.
Automated Solution to Export MSG to Gmail
Suppose you have tried all the above methods and are still unable to import MSG to Gmail. Then, there is no direct solution left to import it but you can still access your file using the MSG to PDF Converter Tool. By using the tool you can migrate MSG to Gmail, Outlook Web App, Gmail, etc. The tool is best at exporting MSG files to PDF, EML, MHTML, and other formats. Users can use the software quickly and access all the versions of windows with absolute ease. As it has a user-friendly interface. Now, follow the below-mentioned steps to start the procedure of conversion.
Steps to Open MSG file in Gmail
Using the below-mentioned steps one can easily import MSG to Gmail.
Download and Install the tool.
Now, select the MSG files by clicking on the Browse button.
Here, before the migration process, one can Preview the file data and click Next.
After that, Choose Gmail from the drop-down and sign in to your Google account with the required credentials i.e. Google ID and Third Party App Password.
Now, apply the desired filter and give a customized folder name to the resultant folder.
Finally, click on the "Convert" button and download the report of the conversion by tapping the "Download Report" icon.
Conclusion
In this write-up, we have discussed various methods to Import MSG to Gmail. In which we have stated a manual method and a professional tool. I hope that this article will help you in solving your query.