​This article deals with how to fix the error "Outlook PST is in use and cannot be accessed". I will discuss all the problems related to the error and how to troubleshoot them.
Microsoft Outlook is one of the most well-known email clients available. As a result, MS Outlook has always been the first choice for all businessmen and professionals. But Outlook has its share of problems and errors. You cannot deny that a slight mistake in understanding what is needed by Outlook can result in a huge error. So, all the work that has been done needs to be rechecked so that no error occurs in Outlook.
The files stored in Outlook are in two formats OST and PST. OST is offline files that are used when the internet is not working, and PST files are automatically configured once the email server is synced with the computer. There are times when PST or OST files are corrupted due to which error occurs. One such error is:
The file C:\Users\user name\AppData\Local\Microsoft\user name\username.pst is in use and cannot be accessed. Close any application that is using this file, and then try again. You might need to restart your computer.
Also Read:- https://www.mailconvertertools.com/blog/how-to-convert-ost-to-pst-manually/
Reasons due to which the error occurred PST file cannot be accessed
Damaged or corrupted PST file
Improper termination of Outlook
Virus or malware attack
PST file is exceeding its maximum file size limit
Abrupt shutdown of the system
Different Fixes For "Outlook PST is in use and cannot be accessed"
Solution 1: End all Outlook related processes running in the background
Press Ctrl+Shift+Esc and Task Manager will be opened
Go to the Processes tab and search for the name Outlook communicator, Lync, UCMAPI and end it
Close the Task Manager and restart MS Outlook
Solution 2: Run Outlook in Safe mode
Close Outlook and press the WIN+R key.
Type Outlook /safe in it and Outlook in safe mode will be opened
If the Outlook is showing an error then the problem is due to Add-in
Now, Click on Add-ins and then click on Go
Uncheck all the suspicious Add-in, then click on Remove
Restart Outlook and the error would be removed
Solution 3: Using Microsoft Inbox Repair Tool to fix "Outlook PST is in use and cannot be accessed"
Click on File Explorer and go to the path C\Program Files\Microsoft Office\Office XX folder
Now click on scanpst.exe and open the corrupted .pst file
Next, click on Start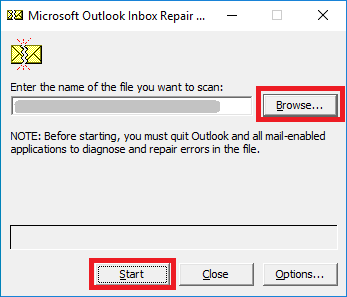 If any error is found then click on Repair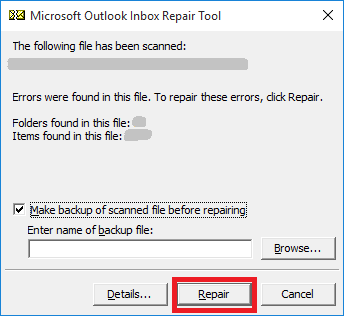 Repair complete dialog box will be shown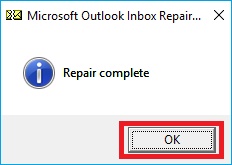 Conclusion
PST corruption occurs due to many reasons and for troubleshooting those errors there are several methods listed above. You can easily read those steps and fix the error themselves. If some people are experiencing problems understanding those steps then there are professional third-party software like Outlook PST Recovery Tool. This software can easily repair the PST file and recover the maximum content from those files. Hence, fixing the error "Outlook PST is in use and cannot be accessed"
You can also read:
Fixed: "Error has been detected in OST file in Outlook"
​