Today we are going to discuss how we can resolve "Outlook keeps asking for password even though it is correct" issue. In most cases, Outlook does work smoothly but sometimes due to issues like bugs or corruption it shows such types of errors. 
If you are troubled by the same problem, just read this blog to get 4 effective methods to fix "Outlook Keeps asking for password even though it is correct". Let us know several factors by which this problem caused.
Or You can use the shortcut to remove PST password.

Why does Outlook keep prompting for a password?
There are several causes of Outlook Keeps asking for password issue:
Outlook is configured to prompt for credentials.
Incorrect Outlook password stored by the Credential Manager.
Outlook profile is corrupt.
Bad network connection.
Antivirus programs cause Outlook errors.
Therefore, if you encountered the same problem, please switch to a more stable network environment at first. If Outlook keeps asking for the password again, then execute the following methods provided for you.
Workarounds to fix Outlook Keeps Asking for the Password Problem
Let's see the detailed procedure for these methods one by one.
Approach 1. Clear the Cached Passwords
The user will get a password prompted error again and again if the cached credentials are incorrect. Thus, it is mandatory to clear passwords using the Windows Credential Manager to resolve this problem. Execute the steps one by one :
Open both MS Outlook and Contol Panel simultaneously.
Go to User Accounts > Credential Manager > Manager Your Credentials use the Outlook credentials.
Click on the name to expand the credentials and click Remove.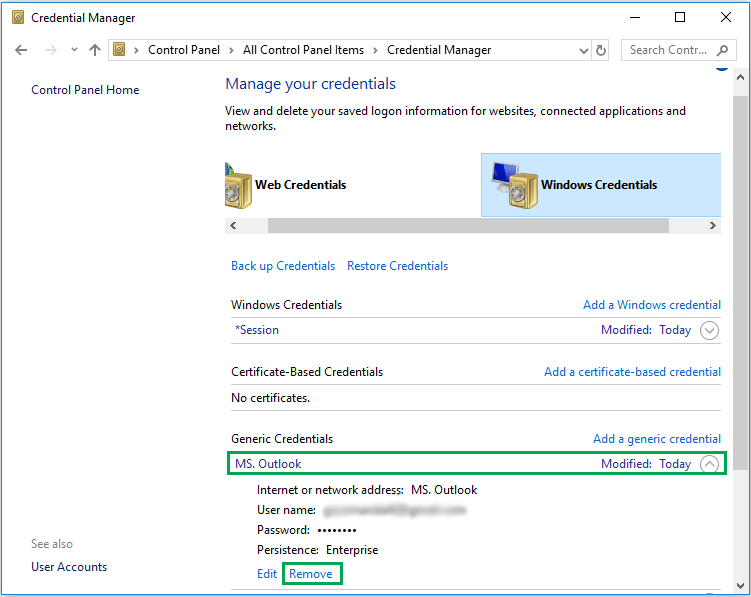 Approach 2. Disable the Password Prompt Login Credentials
When the User Identification Settings are enabled in Outlook, it prompts continuously for login credentials. To get rid of the password prompt problem, the user needs to disable the settings by following these steps:
Open Outlook, Navigate to File > Account Settings.
Select the exchange account and click on the Change.
Now, click on the More Settings in the new dialogue box.
In this tab, uncheck Always Prompt for logon credentials option.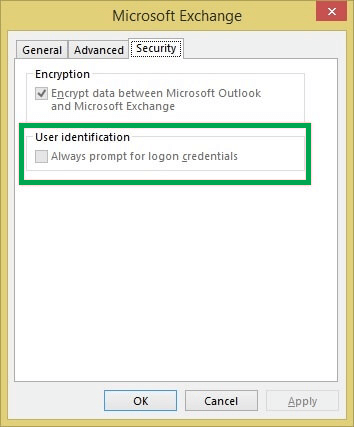 Approach 3. Remove the Corruption from Outlook Profile
It is obvious that Outlook may fail to remember password due to corruption in Outlook Profile. To resolve the corruption, the user needs to create a new profile. Follow these steps to create a new profile:
Open Control Panel and select the Mail option.
In the pop-up window hit on the Show Profiles.
Afterward, select Outlook from the profile and click on the Add button and then OK.
Choose a profile name and click OK.
Now, follow the steps to complete the details of your account.
Here you have successfully created a new Outlook Profile. Click Finish and proceed.
In this step, the user needs to click on Always use this profile and select the new profile from the drop-down list.
These above-mentioned methods will surely help you to fix the "Outlook keeps asking for password even though it is correct" error. If Outlook keeps asking for a password still or you have forgotten the password of your PST file. Then, we are recommending you the easiest solution i.e an automated tool for password recovery.
Approach 4. Use an Automated Tool to Resolve Outlook keeps asking for password even though it is correct
An Automated Solution i.e. Outlook Password Recovery Tool can be used to recover, remove, and setting new passwords in just a few clicks. No matter how long or complex the password is this tool never fails to fulfill user's expectations.
Final Words
In this article, we provided the top 4 methods to solve the issue of password prompt. The first three are manual whereas the fourth one is an automated tool. The solutions mentioned here will solve the issue Outlook keeps asking for password even though it is correct.

You may also read – How to Recover Outlook Password Without Phone Number?