Here you will get the solution for Windows BKF Restore with Backup Exec BKF Recovery. We provide the 3 most needed cures for damaged BKF files.
System corruption is always on the lookout for damaging the users' data files and affecting them badly. Users are left with no other option but to keep a copy of backup data. But still some viruses and other malware affect the backup BKF files vigorously. Nearly all the users end up using the most popularly Backup Creation Utilities; NT- Backup utility or Symantec Backup Exec Utility to generate a backup of their important data on a regular basis. This Windows file backup utility offers you an uncomplicated record safety and retains in the BKF archives with .bkf extension.
Solution for Windows BKF Restore
Many times the created BKF files either go missing or become inaccessible because of bug attacks, system failures, or various unavoidable reasons which badly affect the Backup. In such hurtful situations, the user may become irritated and frustrated due to the inability to perform Windows BKF restore and open corrupt BKF files. Therefore, you can use Backup Exec BKF Recovery Software that comes to the rescue and restore the BKF file in backup exec or recover NT-Backup BKF files. An Infographic which shows you the 3 Best Solutions for Windows BKF Restore provided by this BKF Repair Tool —-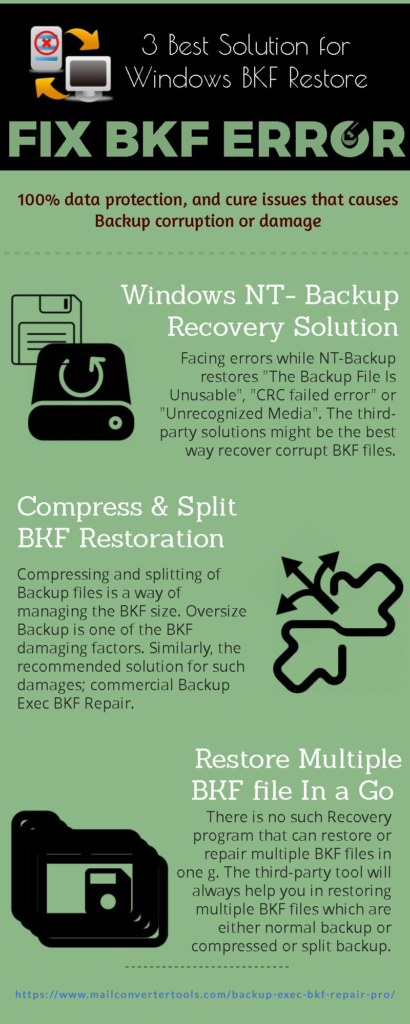 Other Silent Features Backup Exec BKF Recovery Tool
Supports multiple BKF files Recovery at the same time.
Has the power to recover Compressed and Split BKF files.
Dual Recovery Feature to perform the full Windows BKF Restore.
The software works safely and preserves the original file or folder structure.
Easy to understand with an enriched and interactive graphical interface to work on.
Recover SQL database BKF files from the inaccessible state to a readable state.
Compatible with every version of the Windows Operating System
I hope this is helpful if you are deeply in search for the recovery of your Corrupted Windows BKF files created with the help of NT-Backup and Symantec Backup Exec Utility.