This technical guide explains the methods to fix 0x800cccdd IMAP error in Outlook 2010, 2016, and 2007. It is also stating the symptoms of this Outlook error code 0x800cccdd and the reasons why this issue occurs. So, let's start.
Users usually encounter Outlook error 0x800cccdd while working on IMAP server account. This error restricts users to access the Outlook functions and also becomes a hurdle for transferring emails.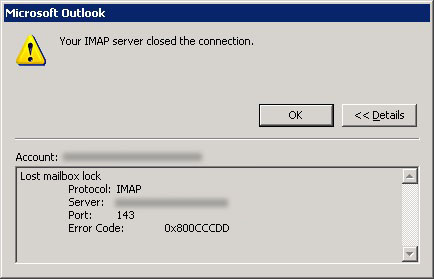 Symptoms of 0x800cccdd IMAP error
Take a look at how this Outlook IMAP error 0x800cccdd is detected.
User will get the "Your IMAP server closed the connection" message on their computer screen.
Outlook application will constantly freeze after you add a new account in MS Outlook.
Reasons Behind IMAP Server Closed Connection Error Code 0x800CCCDD
Since IMAP automatically coordinates with the server thus there isn't any requirement to schedule sending & receiving emails as it by default synchronizes with the server. Therefore, it is not necessary to schedule the send/receive emails manually. So, when a user, unknowingly enables the send/receive emails option, the error code 0x800cccdd occurs.
How to Fix MS Outlook Error Code 0x800cccdd?
Follow these steps to resolve the Outlook IMAP error. 
For Outlook 2010
First of all, open your Outlook application and go to the File tab.
Then, click on Options.
Click on the Advanced tab and then press Send/Receive button.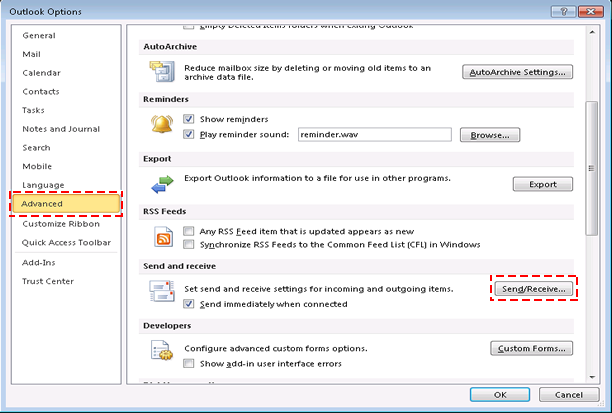 Under the Send/Receive Group, you will see All Accounts option. Under Setting for group "All Accounts", uncheck the option Schedule an automatic send/receive every _ minute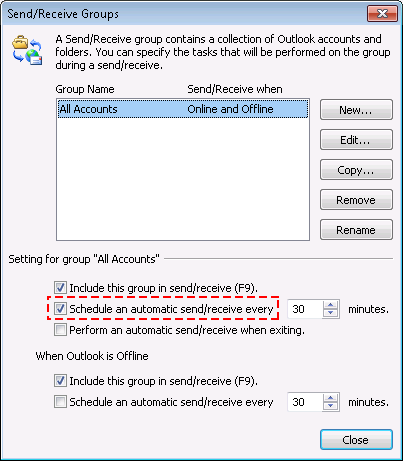 After that, click on the Close button and Restart Outlook. 
For Outlook 2016
Follow the given below steps to Resolve IMAP error 0x800cccdd.
Go to Outlook then click Send/Receive option in the menu bar.
After that select Define Send/Receive Groups option.
From here, follow Step4 as described above for Outlook 2010.
For Outlook 2007
Fix error code 0x800cccdd Outlook 2007 by following the below-mentioned steps.
Firstly, open MS Outlook and go to Tools option in the menu bar
Then select Send/Receive option.
Now, click Send/Receive Settings and then click Define Send/Receive Groups.
Then follow the Step4 as described above for Outlook 2010.
Alternate Solution to Fix 0x800cccdd IMAP error in Outlook 
Though MS Outlook error code 0x800cccdd is a minor one, still it can cause major conflicts in Outlook mailbox if it is not resolved properly. One of the rare cases where this error code still shows up even after the manual solutions can be due to corruption in Outlook mailbox. 
In such a situation, you must go for Recovery software like PST File Recovery to securely repair and recover corrupt Outlook PST file without any data loss and resolve 0x800cccdd imap error outlook. Not only this but also this tool can save recovered Outlook PST emails into multiple file formats. So, here I would recommend you to try the free demo version of this tool. 
Conclusion
Above, I have described the methods to fix 0x800cccdd IMAP error in Outlook 2010, 2016, and 2007. The steps mentioned above have a high probability to solve the error users are facing. If the manual solution won't work then you can go for the alternate one. Hope it helps to resolve your query.
You can also read:
Where is Scanpst located in Windows XP for Outlook 2010, 2007 & 2003